This past weekend we went to Bangor, Maine. While doing some pre-weekend research I came across the Sea Dog Microbrewery and was skimming over the menu to see if there were any food options for my boyfriend and myself. We ended up finding a few things that are vegan friendly.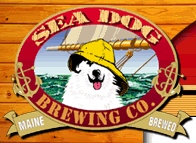 We found:

Chilled Hummus Plate Smooth hummus served with long-cut vegetables and lots of pita wedges. $7.95

Vegetarian ChickenVegan grilled chicken on a deli roll with radish sprouts, cucumbers and a pesto mayonnaise and fries or chips. $7.95 we subsituted the mayo for gucamole and salsa for a $1 extra

we washed these down with one of their many microbrews. Everything was delicious and the atmosphere was lively yet relaxing and fun good for a date or just going out with friends.

there were also some pasta dishes that could be made vegan and a veggie burger that may have been vegan but we did not check to see.